If you're a business owner who doesn't mind shelling out 30 hours or more each week for your online presence, then, by all means, do not hire a virtual social media expert.
But is time the only consideration for getting help for your social media needs?
Will posting regularly on your online pages be enough to establish a strong presence?
Is having social media accounts on all channels effective in getting your brand out there?
If you're on the fence on this one and would like to learn more about online assistants who specialize in social media, we've got just what you need right here.
These are the topics that we'll discuss in this article:
A virtual assistant (or a VA) is a self-employed professional who supports businesses and business owners remotely.
Although they are known for doing tasks just like any other personal assistants, VAs also comes with a vast array of skill sets applied to various industries. Aside from administrative duties, they can be adept at bookkeeping, content writing, graphic design, data entry, marketing, and, yes, social media management.
To put it simply, a social media virtual assistant helps businesses grow by establishing their social media presence. For some, an online presence simply means having accounts on all social media channels, but to a social media specialist, the job goes beyond that and more.
Creating a profile on different social media channels.
Engaging and interacting with the target market and audience.
Curating content and images.
Crafting and managing social media campaigns.
But why is social media important for businesses? A solid online presence plays a vital role in business success, whether online or traditional.
To give you a better picture, here's a list of nine ways a virtual assistant can use social media to benefit you and your company:
Brand Awareness
There are roughly billions of people who use social media every day and for any business to thrive, you have to be where everyone is. Your social media assistant can use the various social media channels to get your name out there and introduce your company's products.
Brand Personality
Connect with people on a more personal level. Have a distinct voice and let your company identity shine through with the way you engage with your audience and present yourself. Your social media specialist can do this by posting images of your employees' happy and smiling faces, uploading a vlog on how your products are made, or simply asking a question to your followers to encourage engagement.
Establish your company as an expert in your field and stand out among your competitors. By uploading content that is engaging and relevant, your social media specialist will keep you connected and significant to your target market. With well-written and thoughtful blog entries, creative and unique posts, you affirm your status as a leader in your industry.
Generate More Website Traffic
Followers of your social media accounts are more likely to seek information about you when they like your posts. This kind of engagement will, in turn, generate an increase in traffic to your website and eventually grow your company's sales potential. Your social media assistant can take advantage of this by regularly uploading fresh and exciting content on your pages.
PR Management
Social media is an excellent way for your business to communicate with your target market. You must be swift in resolving customer issues and responding to messages sent for customers to feel valued. Through hashtags, your social media specialist ensures that you and any topic you want to bring to focus will be easily accessible to your followers.
Analytics and Insights
Make good use of the analytics tools that social media platforms provide. Consider the data regarding your followers' count, engagement, and click-through rates. Your social media virtual assistant can refer to these when crafting social media campaigns and content plans.
Keep an Eye on Competitors
Use social media not just to boost your business, but to observe your competitors, as well. By following the online accounts of those in your industry, your social media assistant equips you with the information you will need to learn from and formulate plans to attain successful social media growth.
Manage Ads and Marketing Campaigns
Create advertisements that directly target your intended market. Social media platforms have made it easier for businesses to tailor fit their promotions to their chosen audience. When your social media specialist uses the tools that social media channels provide, your business can successfully reach your customers and engage them better, translating to higher sales.
Conduct Conversion Optimization for better results
Your VA can analyze the results of your social media campaigns and conduct different testing to see which ones are effective and identify the others that need improvement. This process can be a goal that your business can utilize to savor long-term business revenues.
Can anyone become a social media virtual assistant?
We've narrowed down the list to five non-negotiables that business owners should look for in a social media specialist.
Detail-oriented
You'll need someone with a keen eye for details. Although mistakes are inevitable, a VA must be observant enough to catch errors and typos. Accuracy is of utmost importance, most especially, in social media because you can literally do everything in one click.
A good team player
It is a given that virtual assistants do not work alone. You will either be directly in contact with your social media online specialist, or you will assign them to a team. Someone who knows how to give support and ask for it when needed is essential for your company's success.
Self-driven and committed
One of the main reasons why you need a virtual assistant is to make your life easier. Look for someone who can get things done with minimal supervision. An effective social media specialist delivers work that is not only on par with your company's but is also on time and within your budget.
Naturally curious and resourceful
Hire someone who has a thirst for what's new, what people like, and what is relevant. Social media is always about the next big thing, and it's important that you have an online expert who knows where to find it and integrates it into your social media campaigns and initiatives.
Strong communication and networking skills
One cannot work in social media without excellent communication skills. Find someone who can speak and write clearly and effectively. A social media virtual assistant is your liaison to influencers and industry leaders, as well as to your audience.
Five Most Basic Skills You Need to Be a Virtual Assistant.
Be proficient on the most popular social media platforms and how they work.
A virtual assistant specializing in social media knows how to identify the best platform to use and tailor-fit content based on what your company needs.
Know-how on design.
Understand the basic elements of good design.
A social media online assistant uses this knowledge and translates it to online collaterals using apps such as Canva, Crello, etc.
Use software that makes social media management more efficient and convenient.
A skilled social media virtual assistant utilizes tools that can make repetitive tasks like posting content and updates across different channels more manageable.
Oversee all your social media accounts.
From posting content, reaching out to people, replying to queries, and updating your accounts, a virtual assistant assigned to your social media handles everything that relates to your online presence.
Up-to-date on trends and can research extensively on what is current and relevant.
Get social media trends down pat.
A social media online assistant expertly keeps up with what's hot and popular and successfully translates these to your online strategies and projects.
It's a given that virtual assistants wear many hats. Those who specialize in social media are no exception. Here are some of the terms you may hear when referring to a social media virtual assistant.
Social Media Manager
Social Media Strategist
Social Media Specialist
Social Media Director
Social Media Coordinator
Social Media Consultant
Social Media Expert
Social Media Assistant
Social Media Marketing Assistant
Digital Media Assistant
Virtual Assistant
Online Assistant
Social Media Officer
Social Media Liaison
Communications Assistant
Online Communications Assistant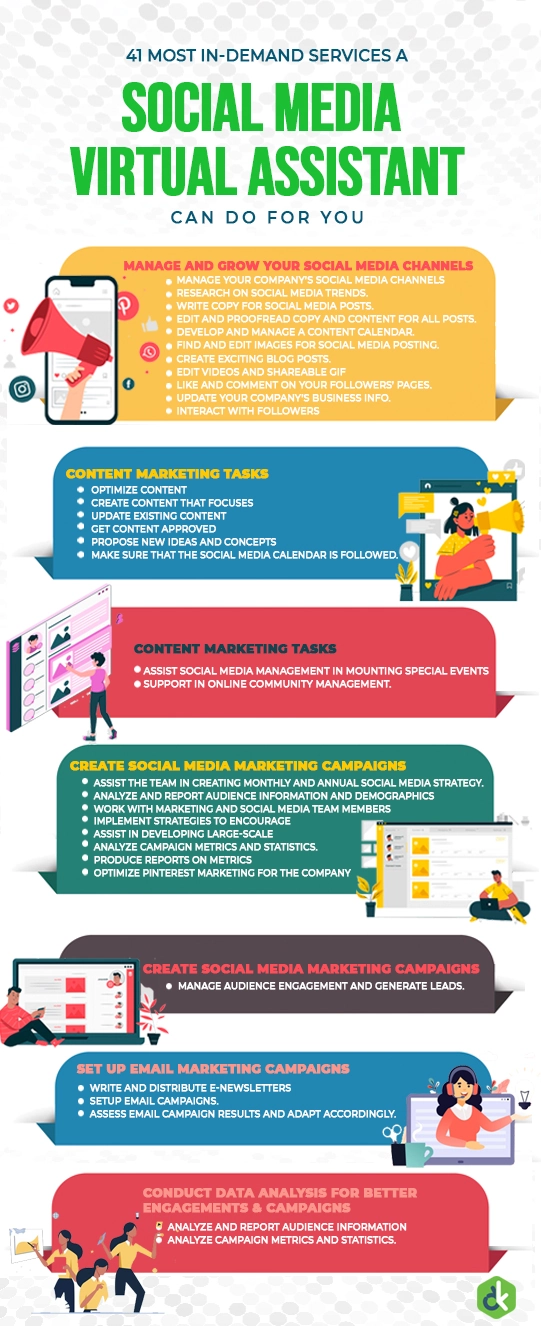 Still unsure if having a social media expert on your team is a wise choice for your company? Here are 41 more reasons to convince you.
Social Media Virtual Assistants can:
Manage your company's social media channels, including Facebook, LinkedIn, Twitter, and other relevant platforms.
Research on social media trends.
Write copy for social media posts.
Edit and proofread copy and content for all posts.
Develop and manage a content calendar.
Find and edit images for social media posting.
Create exciting blog posts.
Edit videos and shareable GIFs.
Come up with memes and viral posts.
Optimize content following social media engine optimization.
Create content that focuses on increasing audience engagement.
Curate posts from other social media channels and blogs.
Update existing content and ensure its relevance.
Assist social media management in mounting special events.
Support in online community management.
Analyze and report audience information and demographics and the success of existing social media projects.
Work with marketing and social media team members to coordinate ad campaigns with social media strategy.
Write and distribute e-newsletters to subscribers.
Get content approved and upload them on platforms.
Implement strategies to encourage more following and click-through.
Assist in developing large-scale social media campaigns.
Analyze campaign metrics and statistics.
Produce reports on metrics and present them to the team.
Assist the team in creating monthly and annual social media strategies.
Propose new ideas and concepts for social media content.
Manage all social media communications.
Use timelines and scheduled content to create a consistent stream of new content for audience interaction.
Evaluate, manage, and adjust content schedules wherever necessary.
Manage audience engagement and generate leads.
Make sure that the social media calendar is followed.
Create content that is fresh, engaging, and relevant to your audience.
Research for similar interests, people, influencers, etc., for networking.
Manage and regularly update content planner.
Setup email campaigns.
Assess email campaign results and adapt accordingly.
Create online surveys and promotions.
Monitor online conversations regarding your company and products.
Like and comment on your followers' pages.
Update your company's business info.
Interact with followers, respond to messages and invite people to like your pages.
Optimize Pinterest marketing for the company.
Now that you know who they are, what they do, and how they integrate into businesses, it's time to find out about the "why."
To Do More.
Delegating your social media needs to an expert means you can focus on the core tasks of your business. These are the ones that directly contribute to your growth.
While some tasks may be considered less than essential compared to others, these still take time to carry out. Having someone else⁠—and an expert at that—do these for you, you can free yourself and your staff to fulfill your roles more efficiently.
With a social media virtual assistant:
A CEO does not need to spend hours updating the company's social media pages
A chef does not have to upload his cooking videos himself
An engineer does not have to personally come up with hashtags to introduce his latest products online
To Save More.
Hiring staffing has its costs. Choosing to get a self-employed virtual assistant on your team means enjoying the benefits of a full-time employee without the burden of financial and structural expenses it entails.
A social media virtual assistant:
requires little to no further training
does not expect you to provide for equipment (laptop, desks, etc.)
provides flexible payment options (per hour rate, per task, etc.)
To Earn More.
We've all heard about the adage, "time is gold." There is no better way to illustrate that than to have an expert on all things digital on your team.
A virtual assistant specializing in social media is fully equipped, whether through education, training, or experience, to render services more effectively and quickly.
A social media expert will:
accomplish more work faster and more efficiently
bring in their expertise and share it with your team
lessen your workload and will allow you some much-needed downtime
If, at this point, your primary concern is if you can afford to have this maverick of an online assistant in your team, we understand. Below is a guide to keeping you just a step away from hiring one.
Hire using freelance marketplaces online:
Choose from among the many freelance sites available (such as Upwork, Fiverr, Outsourcely, Hubstaff, etc.)
Post a job listing on their website
Respond to the freelancers who express interest in your ad
Sift through the responses and narrow them down to a manageable number to begin the screening process
Hire through virtual assistant services agencies:
Select from among the many companies that offer virtual assistant services online.
Contact your choice of agency and provide them with the list of requirements for your social media virtual assistant
Agencies will send you an online assistant based on your needs
Whether you decide to take up the hiring on your own via freelance marketplaces online or acquire the help of an agency, you must understand the particulars in employing remote workers.
The average hourly rate for social media online assistants depends on the following factors:
Status as an employee or as an independent contractor
Difficulty or skill level required for the task or position
The speed at which the task will be accomplished
And as with other virtual assistants, a social media specialist can be paid using a range of pay structures such as per hour, per piece, per keystroke per minute, per project, etc. Online assistants with specialized skill sets such as social media specialists can earn anywhere from $10 to $20 per hour in the US.
As much as they come with numerous benefits, overseeing a team of remote workers comes with many challenges. Thankfully there are ways to go around this, which we have outlined here for you:
The most basic reminders for every business owner with a virtual team or team member are:
Communicate regularly and effectively by making sure that expectations, goals, and timelines are set and understood by everyone
Monitor productivity with the use of communication tools and software. These software should have the details on project requirements as well as the ability to share files and hold meetings with your team.
Ensure focus by managing timelines and expectations, preparing for emergencies, encouraging teamwork by providing a good working environment
Checklist For Every Business Owner With A Remote Team
Dedicated communication channels for projects that have file sharing features and support one-on-one audio and video calls
Video-calling tool for quicker and more efficient communication, especially for explaining things in detail
Software that lets you share screens for better communication
App where you can hold meetings and reviews for your teams
A tool that enables you to record video sessions for future reference
Time tracker that lets you monitor the time your social media online assistant takes to complete a task and enables you to check if you are correctly billed
Tools that allow you to observe the hours your team spends on any website or app while working
Software that minimizes distraction and lets your team focus on their tasks more efficiently
In a nutshell, social media virtual assistants play a vital role in growing your business because:
they empower you to be more productive
they enable you to be cost-effective
they allow you to be profitable
For a complete list of virtual assistant services and tasks, you may check our comprehensive guide about it.
With our controlled and strict screening process and intensive training program, you can be assured that your virtual assistant will be fully equipped to enhance your team and support your company to grow and succeed.
OkayRelax allows you the convenience to choose between a monthly or annual setup with specialized pricing according to the number of tasks you need to be done.
Cheap and affordable virtual assistant packages start at only 29.95 USD. Check out our pricing page for the complete list of virtual assistant packages and rates.