Time is gold. And no one in the world will agree more than someone on a mission to make a mark in the world — someone like an entrepreneur.
As business owners, most significantly if you are starting, multitasking is expected. Cramming as much as you can in one day becomes second nature. But is it the only way to go?
As your business grows, working harder may not be enough. And this is where you'd have to learn to do things better. Work smarter.
How exactly can you do this? You can start by getting your name out there through marketing.
If you've never considered hiring a virtual assistant for your marketing needs before, it's time to do so, and we're here to tell you why.
What Is a Virtual Marketing Assistant?
A virtual marketing assistant (VMA) is a self-employed professional who supports your business by taking care of specific marketing tasks. They assist a marketing manager or a team from a remote location.
Marketing is an integral part of a business because it gets your name out there. Your marketing department's job is to build your brand, connect you with people and let them know about your products and services.
A virtual assistant who specializes in marketing boosts your team's performance, not only by providing support but more importantly, by sharing their know-how in digital marketing. With the help of virtual marketing assistants, companies are now better equipped to penetrate and compete globally.
These online marketing assistants steer businesses towards more effective campaigns and strategies because of their expertise in all things digital. And as digital marketing continues to evolve, so do their duties.
What Are the Different Names of a Marketing Assistant?
Let's take a look at the various terms being used to refer to virtual marketing assistants:
Virtual Assistant Marketing Specialist
Virtual Assistant Marketing Expert
Sales and Marketing Assistant
Online Marketing Assistant
Advertising Virtual Assistant
Brand Assistant
Online Brand Assistant
Virtual Brand Assistant
Part-time Marketing Assistant
Online Marketing Assistant
Online Promotions Assistant
Digital Promotions Assistant
Online Brand Specialist
Digital Promotions Specialist
Digital Marketer
Digital Marketing Assistant
Digital Marketing Specialist
Social Media Marketing Assistant
Social Media Marketing Specialist
Seven Must-Have Skills for a Virtual Marketing Assistant.
Can anyone become a marketing assistant? How will I know if a virtual assistant can carry out marketing duties?

Me, a confused client!
Here's a list to help you find out:
Camera Skills
Videos and images are two of the most effective ways to get attention. They are known to pull in more engagement and make your websites rank higher in SEO.
Look for someone who knows how to handle cameras. One does not have to be a professional photographer, but basic knowledge in lighting, composition, and of course, taking the settings is a must. They must also be capable of using video and image editing software or apps to repurpose content.
Tech Skills
It is a given that for an online professional, you must have a firm grasp on all commonly-used software and tools. Knowledge in web coding and Content Management Systems (CMS) such as WordPress is a must. Hire a virtual assistant who is comfortable with technology and can grasp new ones quickly.
SEO and SEM Utilization
Digital marketing strategies rely heavily on SEO (Search Engine Optimization) and SEM (Search Engine Marketing). Marketing teams develop strategies and campaigns that operate based on these two for both data and content.
Digital marketers, therefore, are expected not just to be familiar, but more importantly, be able to apply them to your client's advantage expertly. Find someone who adheres to best practices and optimizes content using SEO and SEM.
Content Marketing Know-How
The primary component of digital marketing is content. It takes many forms from videos, images, emails, blogs, e-books, etc. Get an assistant marketing specialist who creates high-quality SEO-friendly content and understands how to connect and engage with your audience.
Good Grasp On Designed-Based Thinking
What sets digital marketing apart from others is that it operates from a user-centered perspective. This approach means the user experience is the top consideration when creating content. A virtual marketing assistant understands this and applies it to your campaigns and online initiatives.
Data And Analytics Proficiency
Google Analytics is the core of digital marketing strategies. Businesses, whether big or small, accumulate vast amounts of data.
Hire someone who knows how to use tools to gather, monitor, and report analytics and data. Your business, in turn, will benefit greatly from this information by applying them to innovations, as well as your online marketing initiatives.
Creative Problem-Solving
Apart from having great people skills, a marketing specialist must be analytical, results-oriented, versatile, and inventive. Delegate your marketing needs to someone who comes up with innovative ideas to move your business forward. A virtual marketing assistant, first and foremost, is a problem-solver who is not afraid to think out-of-the-box.
Over 50 Tasks a Virtual Marketing Assistant Can Do for You.

Virtual assistants who specialize in marketing are equipped with a vast array of skill sets that your company can benefit from. And we've compiled quite a number of the most common services they are hired for:
Pitch for brands.
Set up sales funnels.
Conduct lead generation.
Create media and press releases.
Formulate marketing strategies.
Spearhead promotion for blog posts.
Promote e-books, courses, and memberships.
Manage ads.
Promote live events.
Oversee product launches.
Manage company and product branding.
Come up with new business strategies.
Oversee production of collaterals needed for marketing purposes.
Allocate marketing and promo budgets.
Monitor the impact of marketing strategies and make necessary amendments if needed.
Develop, update, and optimize an SEO and web marketing strategy.
Conduct keyword research for websites and perform a blog analysis.
Set up and create landing pages.
Start an in-depth competitor analysis (targeted keywords, ranked content, SEMRUSH positions).
Manage sitemap and webmaster submissions.
Begin a link-building campaign and generate a sufficient number of backlinks.
Off-page optimization: commenting on other blogs, participating in forums and message boards, and responding to the public on YouTube and news websites.
Monitor weekly and monthly Google Analytics reports and observe site traffic.
Design advertisements (banners, side panel graphics, etc.)
Post ads on appropriate and high-traffic websites.
Handle email marketing responsibilities such as: maintaining and creating a new list of email contacts.
Establish follow-up emails and auto-responders, updating them according to response rate.
Design logos, e-book covers, headers, icons, and other graphic elements
Look for a copywriting or content marketing firm to post branded content.
Reach out to media outlets and influencers to garner profiles by publishers.
Perform basic marketing tasks.
Manage e-commerce needs.
Provide marketing support.
Schedule marketing calendar.
Develop and manage content marketing plan.
Optimize marketing campaigns and initiatives.
Research your ideal target market and develop a strategy to reach them effectively.
Find ways to connect to new customers by using analytics and data gathering tools.
Brainstorm with the marketing team for fresh, relevant, and engaging content.
Develop design for marketing collaterals that are user-centered.
Analyze and improve on past campaigns and strategies to boost your company's ROI.
Edit and revise ongoing marketing initiatives to increase engagement.
Curate, publish and share content that best fits your intended audience.
Monitor your company's accounts on all platforms for messages and queries from customers.
Conceptualize and organize paid social media campaigns and promotions across your channels.
Write newsletters and promotional copy to be emailed.
Boost click-through rates by sending newsletters regularly to your email distribution list.
Manage incoming messages and responses from potential customers.
Repurpose content to maximize its mileage and refresh your website.
Source images and videos that will create more impact for your campaigns and initiatives.
Edit and proofread copy for your company's collaterals such as brochures, social media platforms, microsites, and landing pages.
Keep up to date with the latest news on your industry.
Discover where to find new customers and connect with them
Regularly look into what your competitors are doing.
Explore new channels and platforms to use for marketing purposes.
Find and evaluate new marketing tools that your business could use.
The Virtual Marketing Assistant Chart.
Still undecided if you should add a virtual marketing assistant to your team? We've got you covered.
Here's an easier way to help you picture just how a VMA could change your life: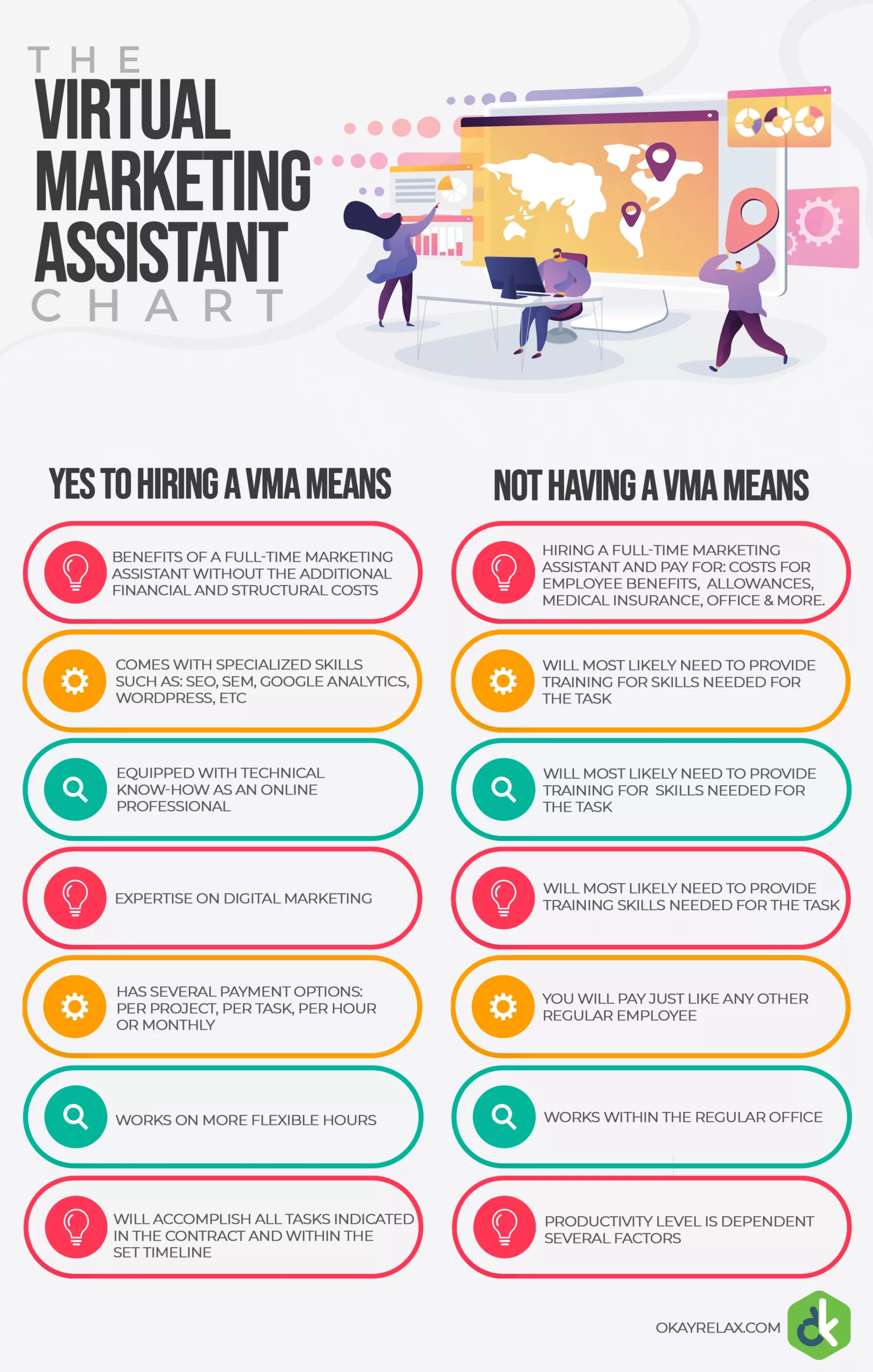 | Yes to hiring a VMA | Not having a VMA |
| --- | --- |
| Benefits of a full-time marketing assistant without the additional financial and structural costs. | Hiring a full-time marketing assistant and pay for: costs for employee benefits, allowances, medical insurance, office space, desks, computer, and other equipment. |
| Comes with specialized skills such as: SEO, SEM, Google Analytics, WordPress, etc. | Will most likely need to provide training for skills needed for the task. |
| Equipped with technical know-how as an online professional. | Will most likely need to provide training for skills needed for the task. |
| Expertise on digital marketing. | Will most likely need to provide training skills needed for the task. |
| Has several payment options: per project, per task, per hour or monthly. | You will pay just like any other regular employee. |
| Works on more flexible hours. | Works within the regular office hours. |
| Will accomplish all tasks indicated in the contract and within the set timeline. | Productivity level is dependent several factors. |
A table showing the comparison discussed in the infographic: hiring a VMA vs. hiring a full time marketing employee.
Three Biggest Reasons Why You Need a Virtual Marketing Assistant.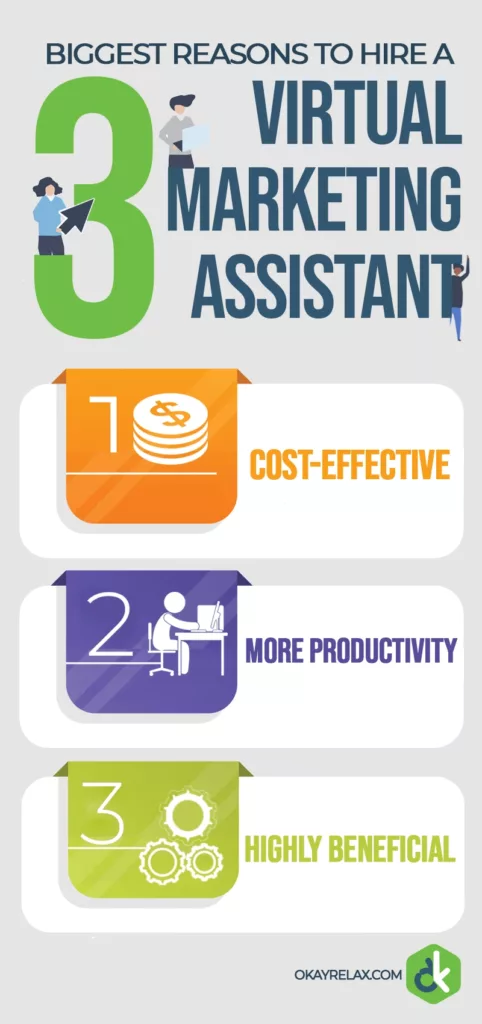 To further guide you on the importance of having an online marketing expert on your team, here are the three most compelling reasons you should take note of:
It is cost-effective

Hiring a digital marketing assistant costs less than a full-time employee
They do not need to be provided with equipment or a work area
An online marketing specialist does not need further training
You can hire one on an hourly or per-task basis

It is more productive

They will most likely accomplish tasks faster and more effectively
Having a dedicated marketing specialist gives you time to focus on your core duties in your company
They will provide valuable support to your marketing team

It is highly beneficial

You reap the benefits of having a full-time employee without the costs
You will feel confident and secure that tasks will be accomplished based on your contract
A virtual marketing assistant is already an expert on digital marketing
Three Easy Ways to Hire a Virtual Marketing Assistant.
Now that we've discussed what a virtual marketing assistant is, what they do, and why you need one in your team, we're about to make things even easier for you. Here are three easy steps in hiring a virtual assistant.
Make a list and check it twice
Determine the tasks you need to outsource by making a list and indicating the outcomes you expect. You may also include SOPs (standard operating procedures) you would prefer your VMA to follow and the timeline you need to accomplish.
Penny for your thoughts?
Assess your company's finances and determine how much you can set aside for additional staffing. Granted that hiring a VMA is more cost-effective than a domestic one, you should also consider how assistants with specialized skills might require higher rates than regular ones.
Go solo or partner up.
Choose between freelance marketplaces and virtual assistant services.
The former means lower cost but finding a VMA rests on you solely.
Using the list of tasks you made and the budget you determined, you can post your job ad. Take your pick from among the many freelance marketplaces online but also be prepared to:
reply to numerous responses and queries
sift through all kinds of applications which could include the unqualified and even bogus ones.
deal with complications that might arise from hiring a remote work on your own.
The latter allows you these services from an agency that provides virtual assistants.
They will provide you with a VMA based on your needs and budget
You can be assured that the assistant they will connect you with has been appropriately screened and trained
Assistance will be extended to ensure that contracts are followed and difficulties sorted out should they arise
How Much Do I Pay a Virtual Marketing Assistant?
Although hiring a virtual marketing assistant costs less than adding a workforce domestically, there are still some expenses that you should consider.
As with all virtual assistants, the rates of a virtual marketing assistant will depend on several factors:
Level of experience (the more experienced, the higher the rate)
Type of work and timeline (the tighter the deadline, the higher the rate)
Location (hourly rates depend on the labor laws and cost of living in the area)
Typically, an entry-level VA or an administrative VA is paid an hourly rate ranging from 12 USD to 20 USD. For assistants with specialized skills such as a virtual marketing assistant, rates may go up to 20 USD to 30 USD per hour.
Hire A Virtual Marketing Assistant Now
So you think you're ready to make marketing a priority?
Hiring a dedicated virtual assistant for your marketing needs will enhance your marketing team and boost your company's growth in leaps and bounds. Having an expert on your side will always prove to be one of the best investments you can make for your business. And the process of hiring one is just as vital in enhancing your team with the right assistant for your needs.
Get ready to empower your business and your team now.
Trust experts like OkayRelax to provide you with high-quality virtual assistant services. With their controlled and strict screening process and intensive training program, you can be assured that your virtual assistant will be fully equipped to enrich your team and support your company to grow and succeed.
OkayRelax allows you the convenience to choose between a monthly or annual setup with specialized pricing according to the number of tasks you need to be done.
Packages start at only 29.95 USD. Check out our website for the full list of virtual assistant packages and rates.