With a myriad of things to think about amidst the ongoing global health and economic crisis, it's become a challenge to resist the multitude of distractions that arise on a daily basis, dragging your focus away from being productive at work. Luckily, there are various tools you could use to help you in your battle against the temptations of procrastination, one of which is music.
Spotify houses approximately 50 million songs you can listen to for free, or under a paid subscription. Among these are dozens of thousands of playlists you can listen to in order to help you get that work energy pumping and boost your productivity at work. More than improving the overall ambiance of your designated workspace, good music also has a ton of other benefits you can take advantage of.
According to an open academic journal called Frontiers in Psychology published last February 2020, listening to upbeat music with tempos of over 170 beats per minute can have a psychophysiological effect on your body, therefore significantly improving your endurance during exercise. Simply put, the release of happy hormones in your body during this process highly increases your energy and focus, and decreases your chances of experiencing fatigue. Following this logic, if high-tempo music can achieve this kind of psychophysiological effect on a person's body, then it is highly likely that it could also bear good results for a person's productivity levels when at work.
Over the years, classical music has been considered a popular choice when it comes to boosting productivity – and rightly so, because it does, in fact, help your mind relax, forget about worries for a while, ignore the distractions that arise, and focus on the tasks you are supposed to do for the day. While this is so, there are also a variety of other alternatives that could energize and engage you at work just as well. There might be a ton of things that are distracting you today, but with the help of these productivity-inducing playlists you can find on Spotify, you're sure to be well on your way to completing your tasks for the day with laser focus.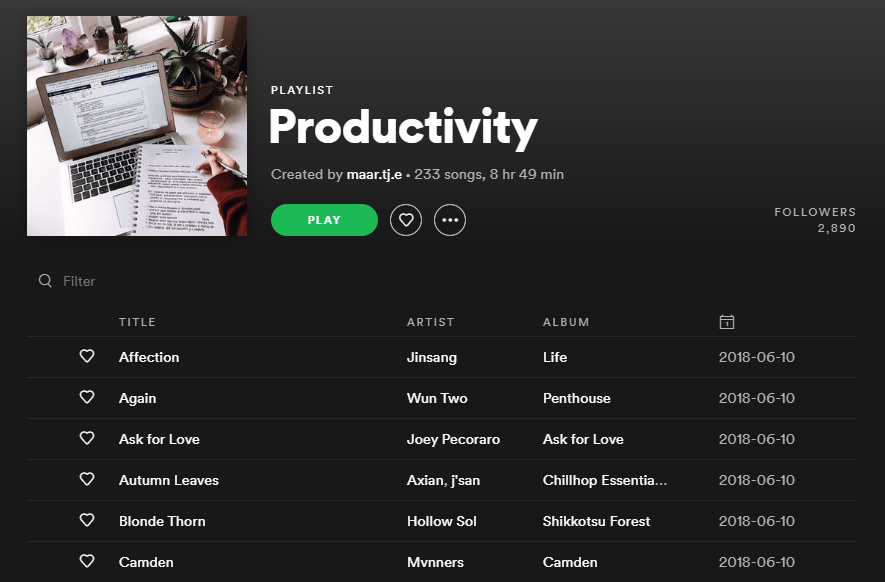 Of course, number one on the list would be named after the very thing you're trying to achieve, and the primary purpose for you reading this article in the first place. Productivity has 2,890 followers and houses 233 songs that are reminiscent of music you often hear in upscale malls and salons, often with minimal lyrics and beats that would unconsciously make your head bop as you work.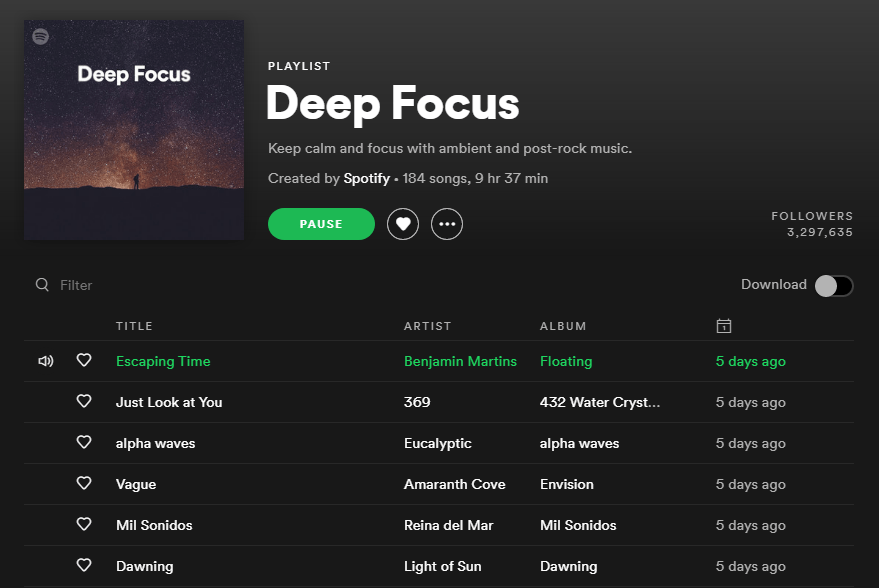 With over 3.2 million followers and 184 songs, Deep Focus, as its name suggests, consists of ambient and post-rock music that intends to keep you calm and focused as you work. That's 9 hours and 37 minutes of nothing but relaxing music to drift you off into your own little bubble – exactly what you need to drive away distractions.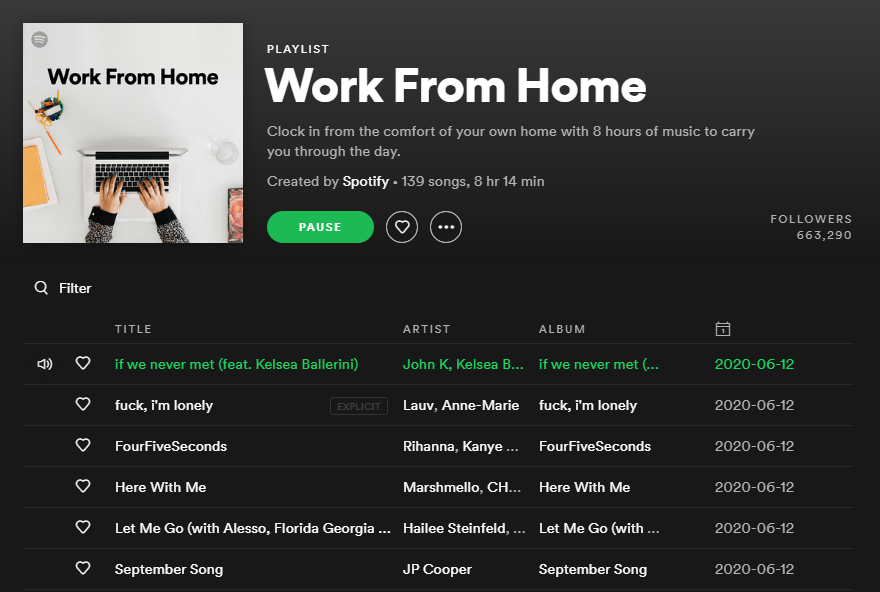 Whether you are working in the office or actually working from home, Work From Home puts you and the rest of its 663,000 followers in a chill and steady state with 8 hours of songs that are meant to keep you energized throughout your shift with just the right amount of focus – not too much that it drifts your mind off to a distant land, but just enough to free you from distractions. Next thing you know, it's already time to clock out!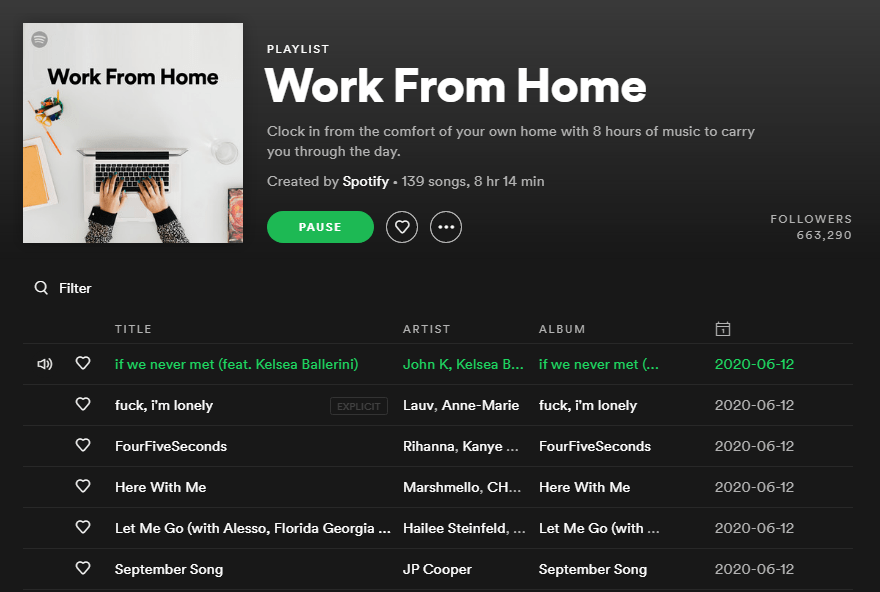 Quite similar to number three, Working From Home can bode well for those working in the office or from the comforts of their own homes. With over 29,000 followers and 80 soft pop hits that you're sure to be familiar with, this playlist is perfect for Mondays or Fridays, when you're just easing yourself into the start of a busy work week, or winding down and preparing yourself for a relaxing weekend ahead to stave off some of that stress brought about by the previous work week.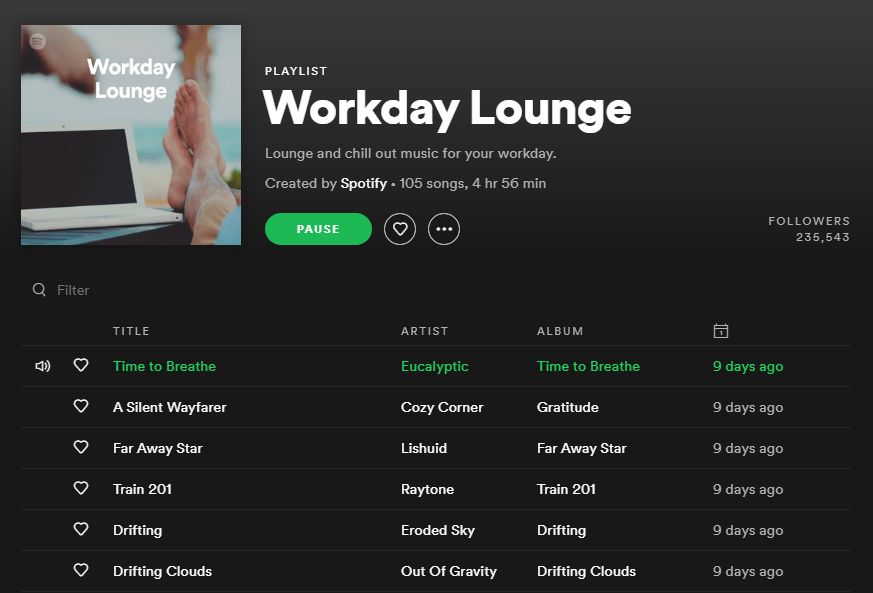 As opposed to energizing music that you can sing along to with number four, Workday Lounge houses almost five hours of lounge music for you, and it's 235,000 followers to chill out to. Lyric-less and soothing, all 105 songs in this playlist would be ideal for a day of writing or drafting campaigns and other tasks at work that require you to create something from scratch.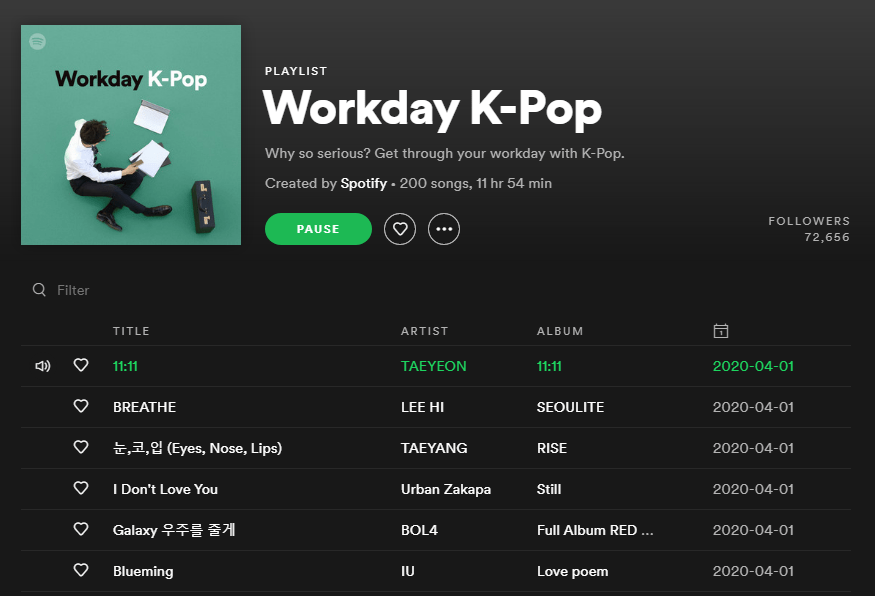 With almost 12 hours of K-Pop goodness for over 72,000 followers, Workday K-Pop is perfect for the Korean drama and K-Pop music fan who needs to get a lot of work done for the day. This playlist consists of soft and relaxing songs that are meant to ease your mind and deviate from negative thoughts and worries. Bonus points, too, for Korean drama fans as the list also contains a couple of songs that are part of a few television show soundtracks.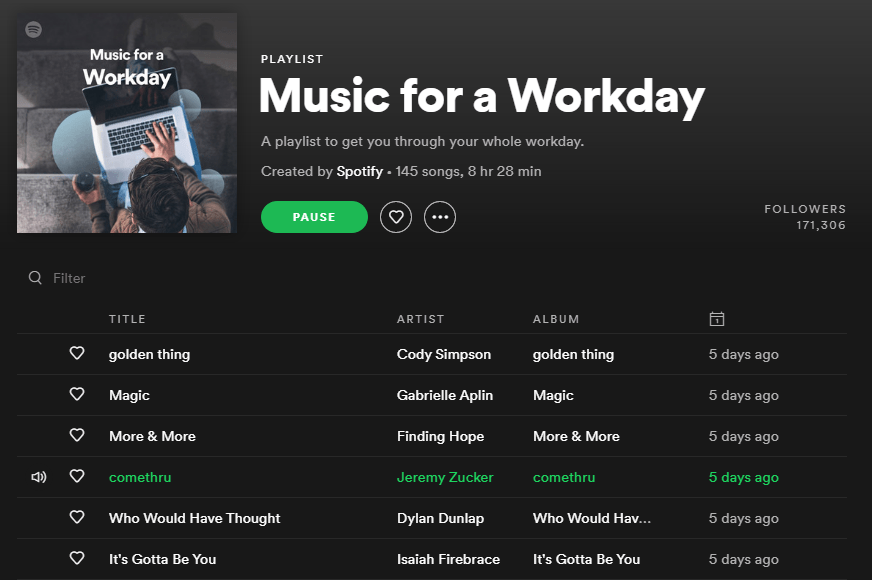 Music for a Workday is the kind of playlist you need when you need to stay energized, relaxed, and awake all at the same time. With over 171,000 followers and eight hours' worth of songs, this playlist is perfect to help you get through that busy work day ahead.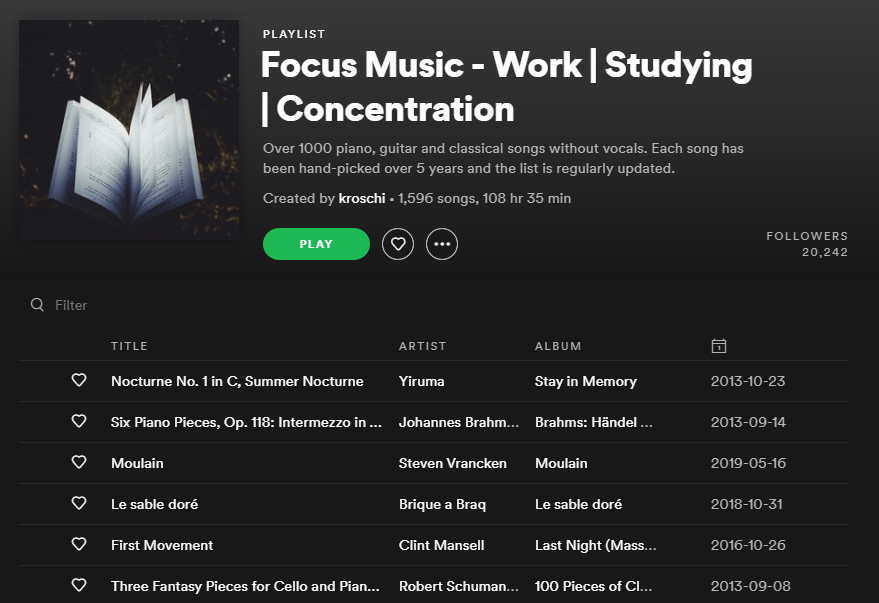 Got a big presentation coming up in a few weeks? Or perhaps you might currently be in dire need of a hard-hitting marketing strategy that would help your business soar beyond limitless heights? Focus Music – Work | Studying | Concentration is just the playlist for you. With over 20,000 followers, this playlist houses over a thousand instrumental songs focusing primarily on piano, guitar, and classical music without vocals, collected and personally hand-picked by Spotify user kroschi for over five years and counting, as the list is regularly updated.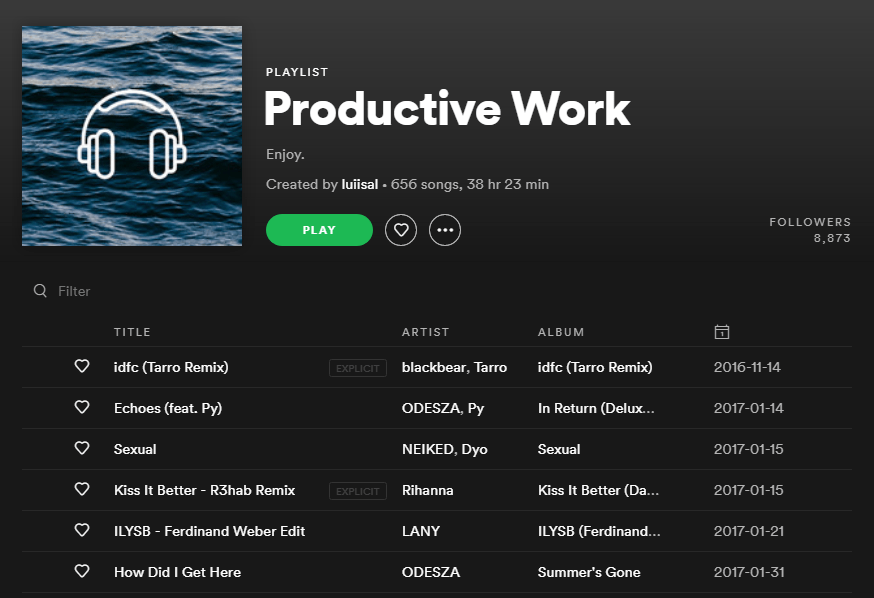 Consisting of over 38 hours of modern party songs that could make your head bop and sway to the beat, Productive Work is perfect for Fridays, when you're just about to enter a fun-filled weekend ahead, or basically whenever you want to feel light and energized.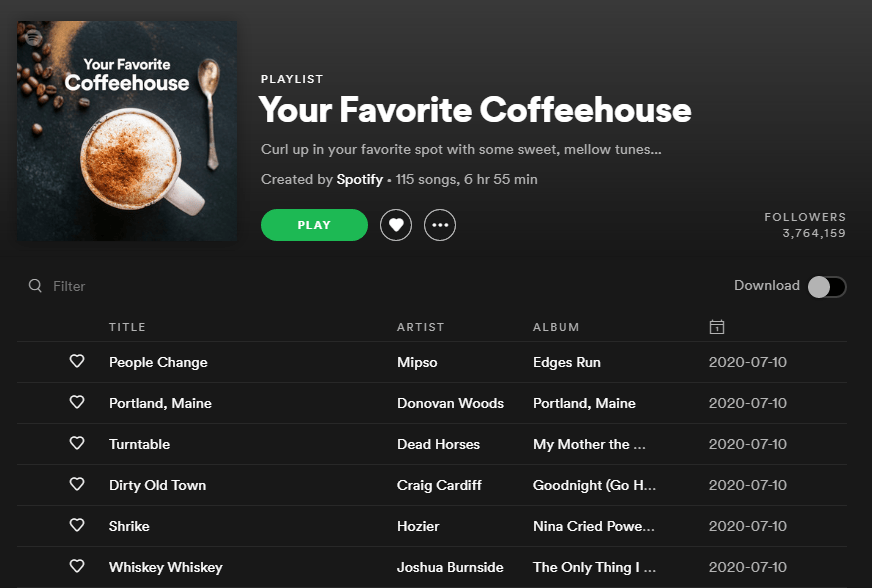 As the name suggests, Your Favorite Coffeehouse has almost 7 hours of songs that you would usually hear in, well, your favorite coffeehouse. Followed by over 3.7 million users on Spotify, this playlist is perfect for when you miss those carefree days when you would visit your favorite coffee shop to work, without any worries of contracting a fatal disease. With Your Favorite Coffeehouse, all you need is a cup (or two!) of your favorite brewed coffee at home, and a nice, comfortable spot to keep your spirit relaxed and ready to face a busy workday ahead.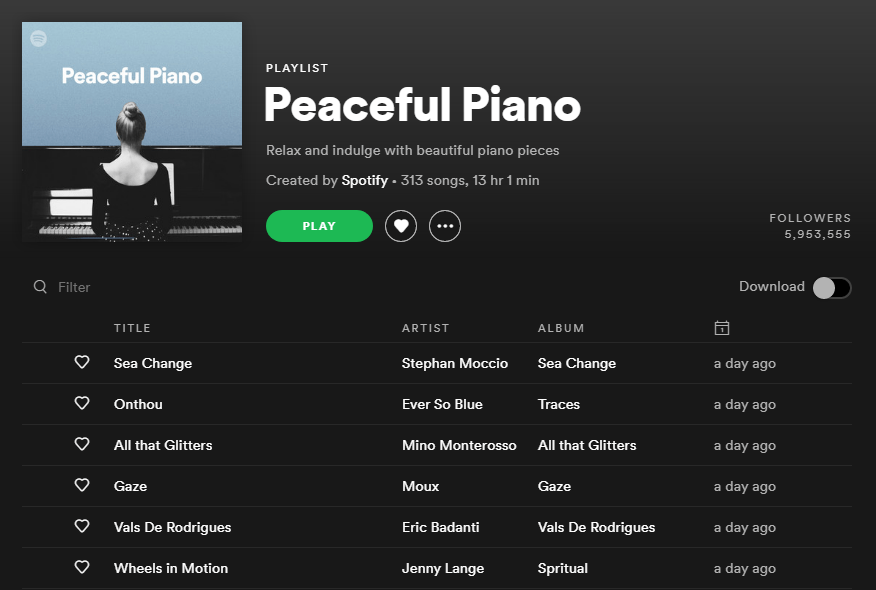 With over 5.9 million followers on Spotify, Peaceful Piano is the perfect playlist for when you want to relax and indulge in beautiful piano pieces to take your mind off of distractions and steer you back into focus. It helps your productivity levels when you clear your mind of worries, and this is where instrumental pieces come in handy.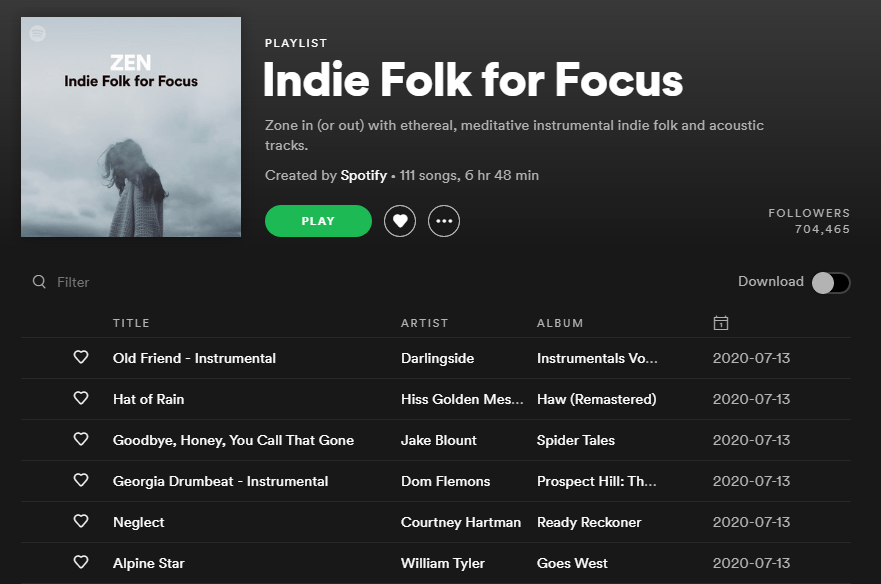 Housing over 100 songs, Indie Folk for Focus is filled with almost 7 hours of ethereal and meditative instrumental indie folk and acoustic songs to help you and the rest of its 704,000 followers focus and charge full on ahead towards that goal you have set for yourself today.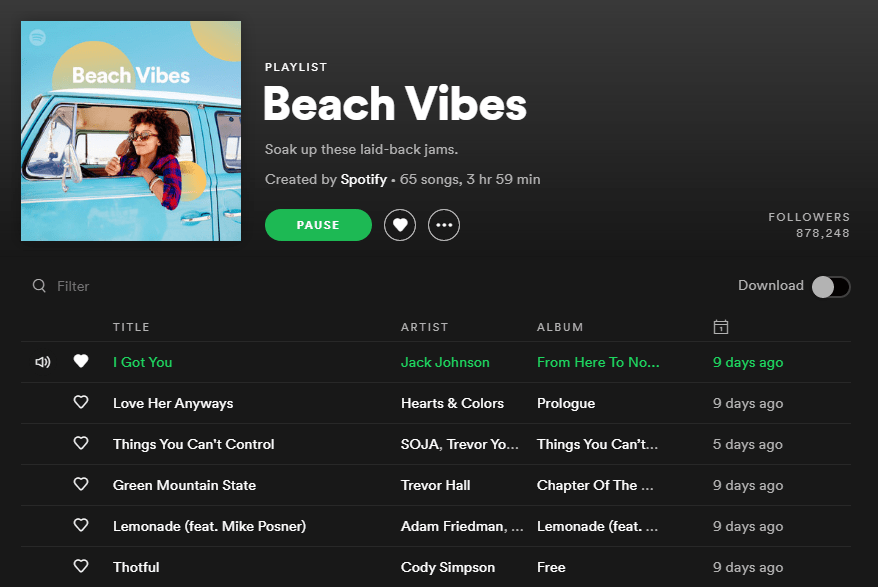 Filled with four hours of laid-back tracks for it's 878,000 followers, Beach Vibes is perfect to keep you company during office hours and keep you in that relaxed, productive zone so you can continue completing your daily tasks with minimal to no distractions.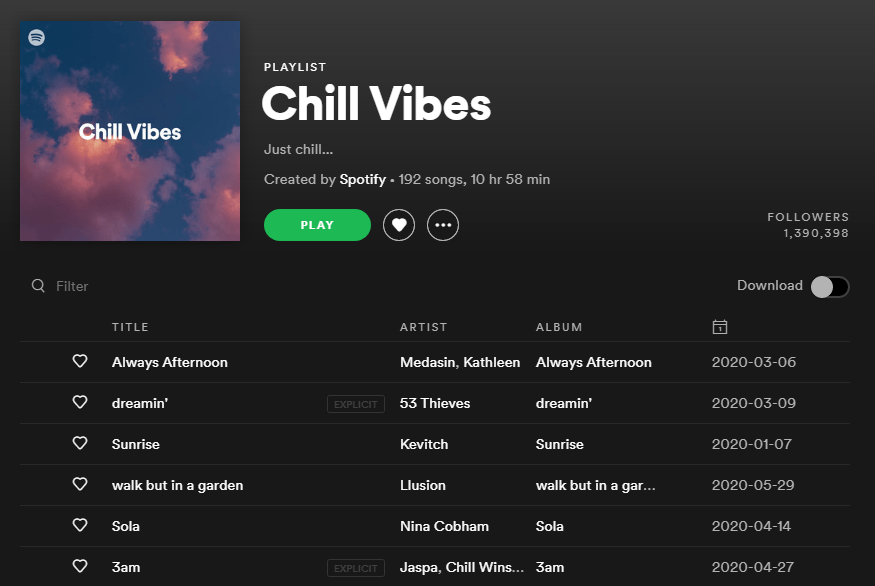 Enjoy almost 11 hours of relaxing, ambient music along with it's 1.3 million followers as Chill Vibes brings you to a zone that frees you from distractions and keeps your head focused without the pressures of too much stress – even despite a ton of workload that needs to get done.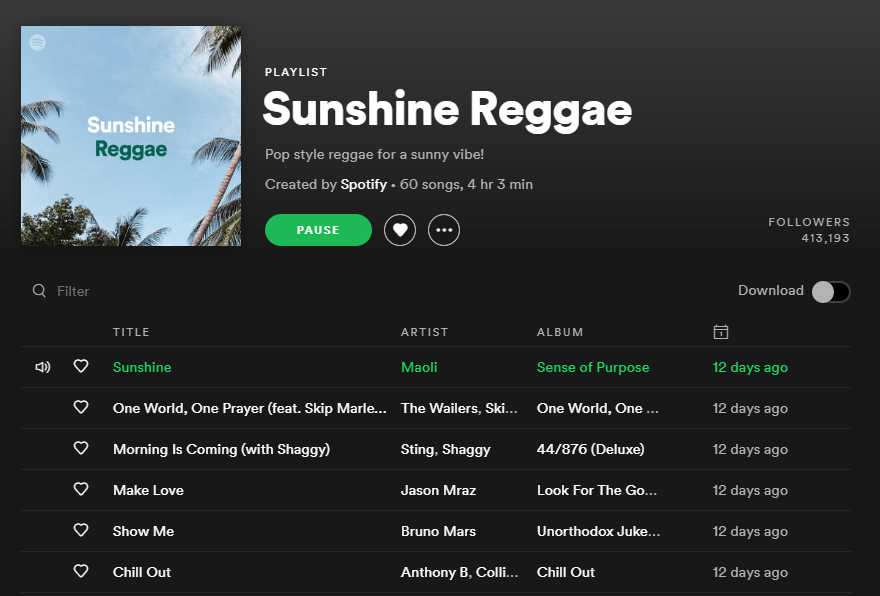 Missing the beach and itching to feel some warm, grainy sand on your toes while basking in the sun? That may not be possible now, but you can hit two birds with one stone as you listen to Sunshine Reggae along with over 413,000 Spotify users. Not only do you get that sunny, beach vibe you are missing so much, you also get to enjoy collecting energy from four hours of non-stop pop style reggae music to keep your mind working and your head bopping.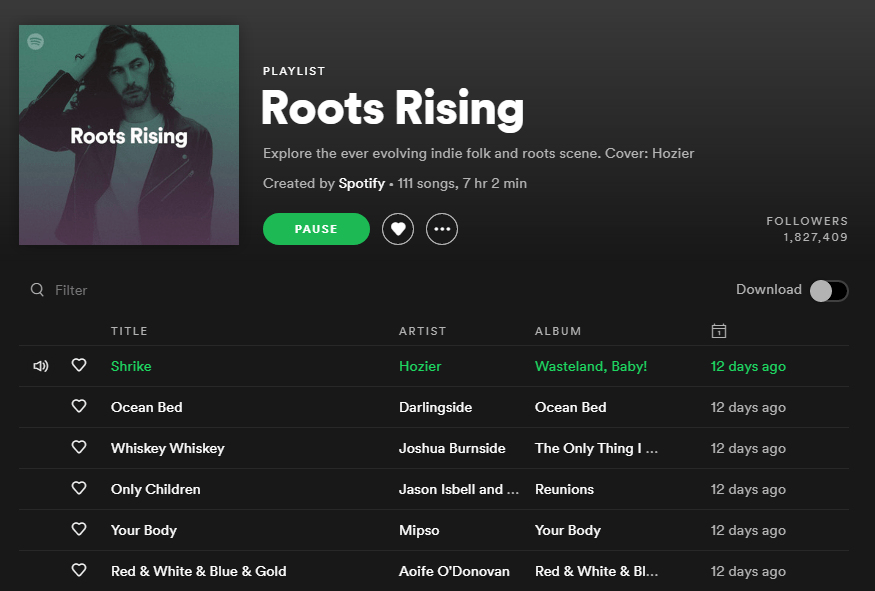 With over 1.8 million Spotify users listening to 7 hours of ambient music that primarily revolves around the ever-evolving indie folk and roots scene, Roots Rising is the perfect playlist for when you need just the right amount of energy to focus on work and nothing else – nothing more, nothing less.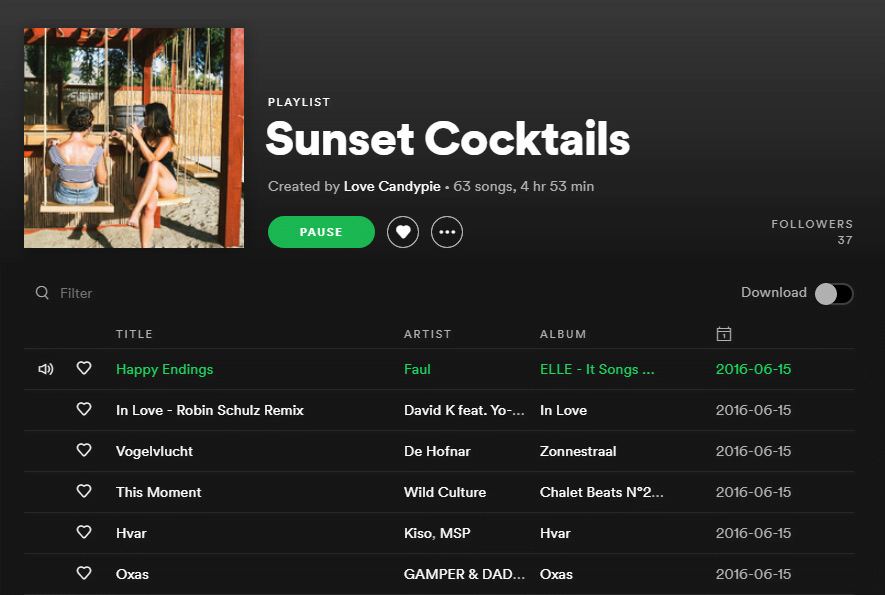 Reminiscent of those sunset sessions by the beach, beer or cocktail in hand, Sunset Cocktails is a combination of Productivity (see number one) and Beach Vibes (see number 13). Enjoy listening to almost five hours of beach sunset music that helps pump you up for a full day of work.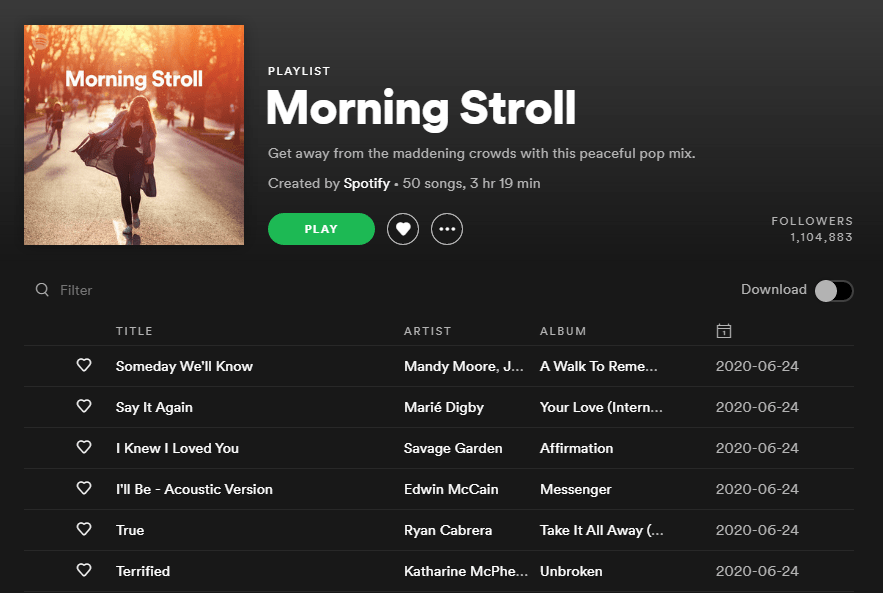 Filled with over three hours of familiar music perfect to keep you company during Monday mornings at work, Morning Stroll houses 50 songs of peaceful pop music that you and the rest of it's 1.1 million followers can sing along to as you prepare your mind for a busy work week ahead with just the right amount of energy and relaxation levels.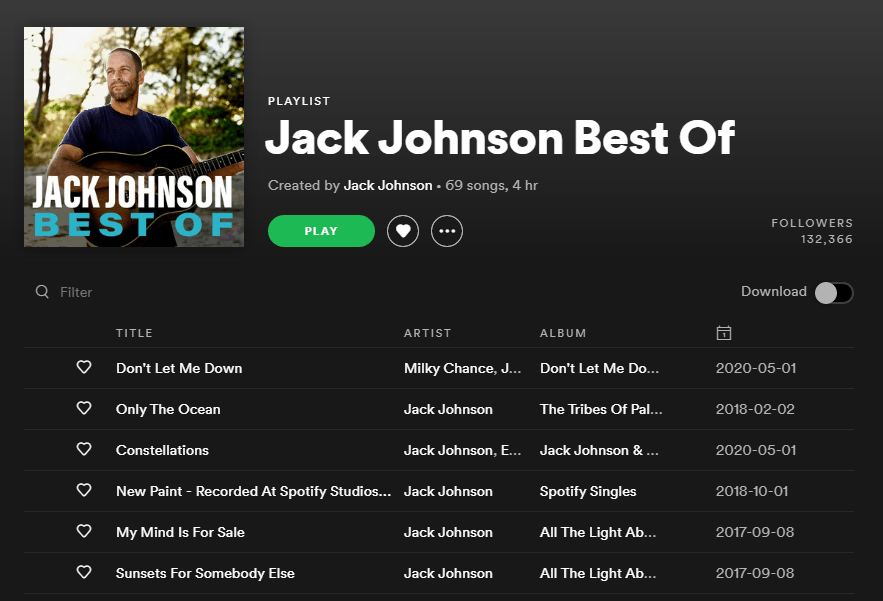 Compiled by American singer-songwriter, multi-instrumentalist, record producer, documentary filmmaker, and former professional surfer, Jack Johnson, Jack Johnson Best Of consists of 4 hours of non-stop relaxing music reminiscent of relaxing days on the beach. Unwind with the rest of it's 132,000 followers as you clear up some space in your mind to make room for a busy work day or week ahead.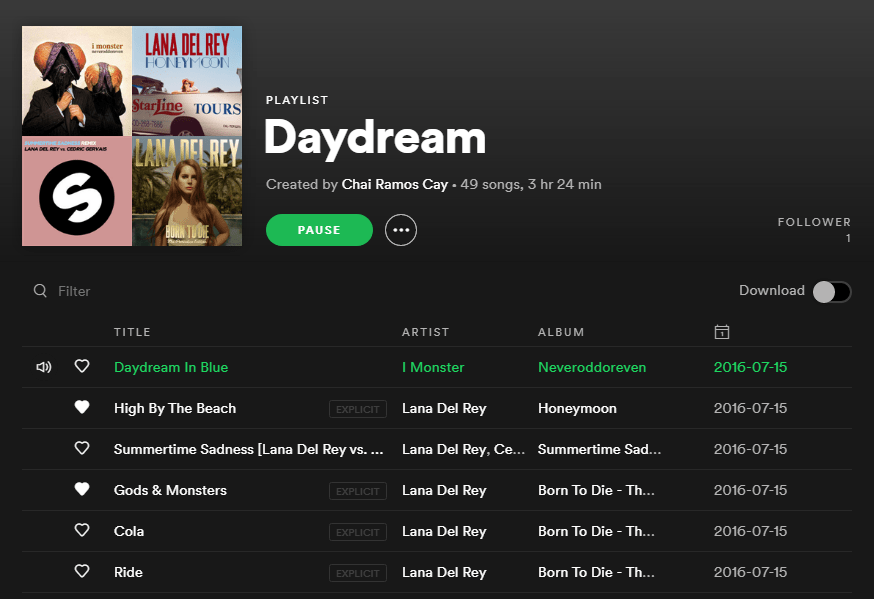 Housing over 3 hours' worth of songs, Daydream invites you into a transcendental journey as you listen to music that urges you to push forward and accomplish whatever task you are currently working on. With a mix of relaxing and energizing music perfect to keep the balance between the two, this playlist is perfect for a regular workday when you need to focus and get your blood pumping.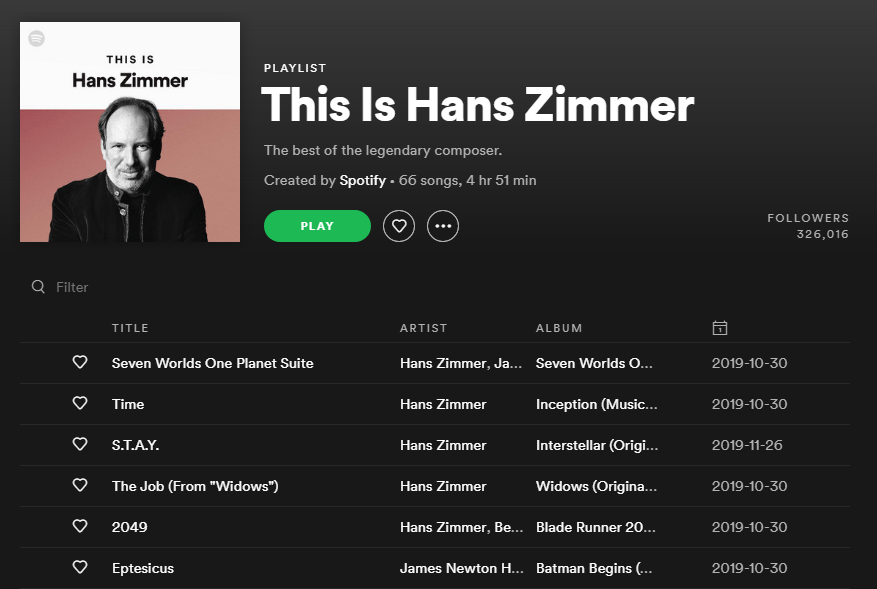 Hans Zimmer is a legendary German film scorer and record producer, best known for his compositions featured in notable films such as Inception, Interstellar, The Dark Knight, The Lion King, The Da Vinci Code, Pirates of the Caribbean, and more. We're sure that you have probably already heard of him, one way or another! Perfect for those crucial moments just right before a deadline, this playlist, followed by over 326,000 users on Spotify, houses almost five hours' worth of intense and rhythmic songs from various film soundtracks that are sure to get you energized and help you burst productively into work with a vengeance.
---
If productivity doesn't come easy for you, one of the playlists listed down in this article would surely be able to help you get into that zone. Learning which playlist fits you best productivity-wise can be an optimal way for you to manage your work-related stress, and help unload a ton of worries off your shoulders.
Still overwhelmed with the amount of work you have to do? Then it's time you reach out to the experts for some help and hire a virtual assistant. OkayRelax offers virtual assistant services and matches you with the online personal assistant that carries just the right skills and character that best suits your needs, for as low as $29.95 per month.